History
Older digital cameras are often not a wise buy, but the Olympus Tough TG series may be different – and just what you need at a reasonable price. The robust waterproof construction means that second hand they are often in excellent condition. In this article, we provide some information on the Olympus TG series from the TG-1 launched in 2012 to the TG-6. You will also find more in-depth information about the TG-6.
TG-1. Not Just for Extreme Environments
Introduced in 2012, the Olympus TG-1 was shockproof to 2m, crushproof to 100kg, waterproof to 12m and freezeproof to -10°C, which means it can be used for mountaineering, snorkelling or even walking on glaciers. But it is not just for more extreme environments and makes a great travel or photo walk camera. The 12-million-pixel camera features an all-metal body construction with hard glass lens cover and feels robust enough to withstand years of hard use.
The 4.5-18mm (25-100mm equivalent) wide zoom lens has a maximum aperture of f/2-4.9, with the 4x optical zoom lens ideal for most situations. However, the camera also incorporates a digital zoom that increases the range to 8x (super-resolution zoom) or 16x, with the zoom indicator on the monitor displaying which magnification is in use.
The Olympus Tough TG-1 is very easy to use. The rear dial sets the shooting mode, which includes program, iAuto, low light, supersport, scene mode, magic filter and two custom settings.
Unfortunately, the camera did not have a full manual setting – that came later. Other rear controls include a zoom rocker, movie record, playback, a navigation control with a central OK button and menu.
The Lithium-Ion battery is found on the base of the camera base with the SD card slot. A USB battery charger is also supplied, with the battery charged in-camera. The USB and HDMI ports are on the side of the camera, and both the base and side covers have double-locking to help maintain the watertight seal.
The TG-1 image quality is very good. Images are sharp and clean. The super-resolution zoom produces good results, whereas the 16x zoom is said to produce soft, mushy pixels.
HD movie capture is excellent for the age of the camera, with three shooting modes: 1080p, 720p and VGA. Each generates a smooth-playing video. The two macro settings produce excellent results and the super macro has LED illumination. The TG-1 provides sufficient information via a histogram, and 3in OLED screen give
The camera has no viewfinder and the screen does not tilt – probably difficult to achieve for a waterproof camera. Many will love the built-in GPS tracker. When the photos are uploaded to Lightroom, for example, you will be able to see the location of the shot although the GPS feature will use quite a lot of battery life. A built-in flash is available (no hot-shoe) is also available.
TG-2, Introduction of Aperture Priority Mode
The 2013 Olympus Tough TG-2 camera was a very minor upgrade to the TG-1. The main difference being an increased depth rating and the addition of an aperture priority mode allowing the user to have better control over image capture. The newer model also had a lower retail cost than the TG-1.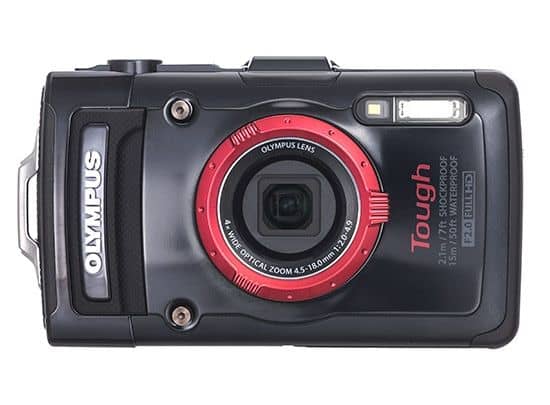 High-level specification.
12MP – 1/2.3″ BSI-CMOS Sensor
SD and Eye-Fi memory card compatibility
ISO 100 – 6400
25-100 mm F2.0-4.9 Zoom Lens
Sensor-shift Image Stabilization
3″ Fixed Type Screen
5 fps continuous shooting
1920 x 1080 video resolution
240 fps High-Speed Video
Built-in GPS
230g. 111 x 67 x 29 mm
JPEG and QuickTime
Battery life – 350 shots
Weather-Sealed Body
TG-3, More Features
The TG3 raised the sensor to 16mb from 12mb and included the new features included – built-in wireless, manual exposure, timelapse recording, focus bracketing, focus stacking and smartphone_remote control. The only disadvantage was that the TG3 was a little thicker than its predecessor, 31mm compared to 29mm.
High-level specification.
Announcement Date: 2014-03-31
16MP – 1/2.3″ BSI-CMOS Sensor
ISO 100 – 6400
25-100 mm F2.0-4.9 Zoom Lens
Sensor-shift Image Stabilization
3″ Fixed Type Screen
5 fps continuous shooting
1920 x 1080 video resolution
Built-in Wireless
Built-in GPS
247g. 112 x 66 x 31 mm
Weather-Sealed Body
TG-4, Now with RAW
The Olympus TG 4 launched in April 2015 and introduced RAW, manual focusing, manual exposure and improved battery life.
TG-5, Improved Picture Quality
Olympus TG-5 TG was launched in May 2017 with several changes including:
12MP – 1/2.3″ BSI-CMOS Sensor
Higher ISO at 12,800
Bigger Sensor Pixel Area
Higher Resolution Video
Support for UHS Memory Cards
At first glance, it may look like a downgrade Olympus TG-4 and Olympus TG-5 as the specification moves from 16MP to 12MP. But, since Olympus TG-5 has 32% larger pixel area (2.34µm2 vs 1.76µm2) compared to Olympus TG-4, it has larger pixel area to collect light hence potential to have less noise in low light / high ISO images
TG-6, Further Upgrades Including 4K Super Macro
Olympus TG-6 launched in May 2019 with an improved LCD Screen Resolution 1.040k dots vs 460k dots and 4K super macro.
High-level specification.
12MP – 1/2.3″ BSI-CMOS Sensor
ISO 100 – 12800
25-100 mm F2.0-4.9 Zoom Lens
Sensor-shift Image Stabilization
3″ Fixed Type Screen
20.0 fps continuous shooting
3840 x 2160 video resolution
Built-in Wireless
Built-in GPS
253g. 113 x 66 x 32 mm
Weather-Sealed Body
The Olympus TG-6 has what Olympus calls a 'variable macro system', which allows access to the new Super Macro Autofocus and Manual Focus modes directly from the Quick Menu in Aperture Priority, Program Auto, or Movie Mode. Once focus is set to Super Macro, and as long as you zoom in to at least 1.2x, the camera can focus up to an astonishing 1cm in front of the lens. This makes Aperture Priority mode equivalent to Microscope Mode in terms of focus ability, but with the added benefit of having a selectable aperture value as well.
The Olympus TG-6 still has Microscope Mode, which has been the marquee feature on this camera line for multiple generations. There are multiple options available in microscope mode such as focus stacking and HDR, but none of those really apply to underwater photography. For most underwater shooting situation there is no reason to switch over to Microscope Mode.
Previously, Microscope Mode did not allow one to select the aperture, making it the same as Program Auto mode but with a super close focus ability. Typically the camera would pick a wide-open aperture like f4.9, but now we can stop our aperture down to f18 for more depth of field, and darker backgrounds.
Olympus also changed the movie options that are available in the quick menu. Previously with the Olympus TG-5 to shoot 4K or high speed 1080 video, it was required to be in Movie Mode. Now, 4K and high speed 1080 can be used directly from the Quick Menu, allowing the shooting of these video specs in Program Auto and Aperture Priority mode.
Another benefit is executing a custom white balance. A custom white balance cannot be performed in Movie Mode but can be executed when in one of the photo modes such as Program Auto or Aperture Priority. Previously on the Olympus TG-5 to perform a custom white balance when shooting 4K you had to switch to a photo mode, execute the white balance, then switch back to movie mode. It is a time consuming and tedious process that is simplified by being able to shoot video by directly pressing the record button in one of the photo modes.
Being able to select Program Auto or Aperture Priority for shooting 4K video, and the ability to use Super Macro autofocus from the quick menu are huge improvements. This is the first TG camera that can shoot 4K super macro, which is a breakthrough for a camera this size.
The ability to use Aperture Priority and shoot video has benefits for both wide-angle and macro shooting. For wide-angle, when using a conversion lens like the Backscatter M52 Wide Angle Lens, sharp corners can be assured by being able to assign an aperture of f8 or higher. For macro the aperture can be set to f18, giving more depth of field and making it easier to eliminate ambient light to get nice clean dark backgrounds for macro video.
The Olympus TG-6 has a new ability to set a Minimum Shutter Speed limit, which can be set as fast as 1/500 of a second. The only catch is that to take advantage of this; the camera must be in Auto-ISO mode. Auto ISO preferences can adjusted that will prevent the camera from choosing too high of an ISO setting. The higher limit can be set as low as 400 and the lower limit can be set to a default of 100.
While it is not direct control over shutter speed, the Olympus TG-6 can better freeze motion and create backgrounds that are several stops darker than the capabilities of the TG-5.
The Olympus TG-6 has three new white balance presets for underwater shooting that are depth-specific. There is a Shallow setting for 10-feet or 3-meters, Mid Range for 10-50 feet or 3-15 meters, and Deep for anything below 50-feet or 15-meters.
The Olympus TG-6 now has five underwater preset shooting modes – Snapshot, Wide, Macro, Microscope, and HDR – but only the Underwater Microscope Mode is new compared to the Olympus TG-5.
The Olympus TG-6 has two custom assignable modes (C1 & C2) on the mode dial, just like the Olympus TG-5. These are an excellent solution for quick jump-settings to spend less time in the menu underwater.
TG Series Conclusion
The Olympus TG series or to give the camera its full name Olympus Tough TG- iHS is a great robust high specification camera. While the TG-6 naturally has the best overall specification, earlier models still produce excellent results and may well meet the user's needs at a lower purchase price.
The TG-1 is probably a good camera for those that want something relatively cheap to carry in a pocket or bag. I think that they may not be too easy to find though. The TG-2 is a lot easier to find and is a better camera, so probably this will be the entry camera for many. The TG-4 provides wireless access and can link to OI.Share which allows you to upload images to your mobile phone and use remote shooting.
The TG-4, TG-5 and TG-6 all have RAW support which may appeal to those that want to sell their images via Microstock, etc.
(RAW is a file format that captures all image data recorded by the sensor when you take a photograph, unlike a JPEG image where information is compressed and lost. With RAW you're able to produce higher quality images, as well as correct problem images that would be unrecoverable if shot in the JPEG format. There is plenty of software to help too.)
Where to find an Olympus TG
Post References and Attribution
Please also take a look at My New Camera the Olympus TG-6
Post Links
RW Jemmett Photography Business Directory – Photography & Video Equipment
Use the Right Software, Create the Right Image…
Instagram #olympustg
Here are some images that I have taken with my TG-6 and for sale on Etsy
Post source:
Check out the Bargains on eBay