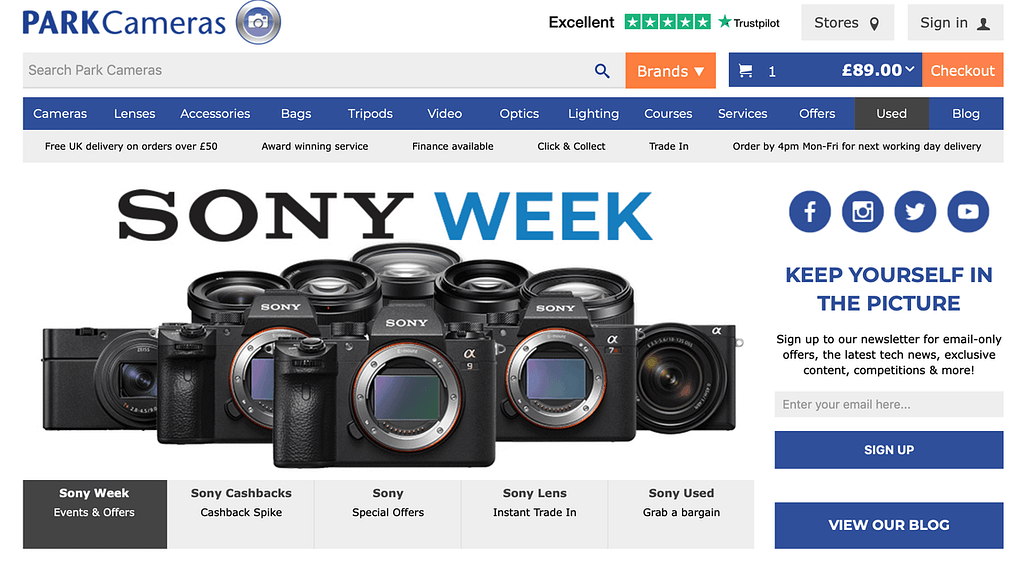 Park Cameras
Keeping you in the picture
Park Cameras are certainly not new to the industry, with over forty years of camera retail experience we pride ourselves on our heritage. With a growing website user base we want to work with relevant publishers to give camera purchasers the easiest route to purchase possible. Our product range can only be described as extensive, and we are always at the forefront of product releases giving publishers opportunity to promote those much-hyped products when the buzz is at its strongest.
The Park Cameras difference
As our website grows we are realising the huge potential we have and are making extra efforts to make sure that we become the photography purchaser's retailer of choice. We are the human side of the internet, we want the customer to know that they aren't buying from some faceless sentinel.
Shopping with Park Cameras
Free delivery on orders over £50 (excluding Scottish Highlands, Channel Islands, Northern Ireland & Republic of Ireland)
Click and Collect available at our branches in Burgess Hill and London
Competitive pricing
Friendly and helpful customer service - 7 days a week.
Large stock of the latest and greatest in photographic equipment
Take a look at Park Cameras for our full range of cameras, lenses, accessories and much, much more.
AFFORDABLE, EXPERT CAMERA REPAIRS
Does your camera need repairing?
At Park Cameras, we provide a repair service for cameras within warranty, outside of warranty, and under extended warranty.
We work alongside the UK's leading camera repair agents, who are all authorised by the camera manufacturers, and can repair cameras purchased from any retailer (warranty repairs will require proof of purchase).
We will provide you with a written estimate for any fault outside of the manufacturer's warranty for you to authorise before we process the repair.
All cameras are subject to quality checking and testing after repair and are returned with at least three months of repair warranty included.
Please note: cameras out of warranty or not purchased from Park Cameras will incur a non-refundable admin fee of £50 for the estimate. This will be deducted from your final bill, should you proceed with the repair.
Contact Information
Victoria Business Park, RH15 9TT, United Kingdom