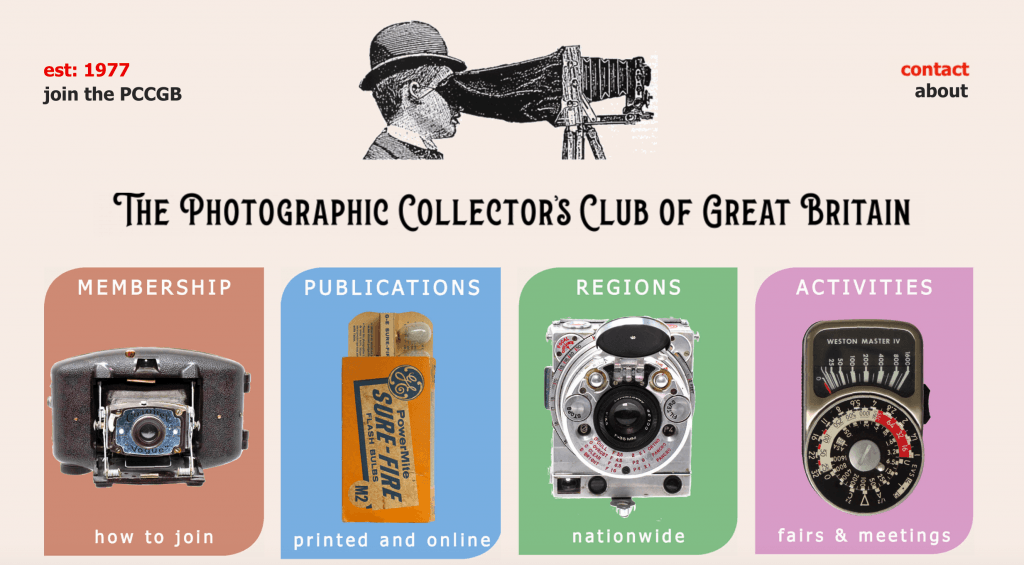 The Photographic Collectors' Club International
The Photographic Collector's Club of Great Britain is the World's leading organization for collectors and enthusiasts interested in the collection and study of photographic equipment, images, processes and history. Formed in 1977, the club has over 750 members worldwide, with diverse interests ranging from sub-miniature cameras to Daguerrotypes, through to photographic books and using vintage equipment and processes. Although UK based the PCCGB has members across the globe, and we welcome input for our publications from everyone – be it academic study, camera marque history, the use of old and not so old equipment. We also welcome the opportunity to review new books and collections on the subject of photographica – please contact editor James Downs if you are able to provide review copies.
Membership is open to anyone interested in photographica – we have members who collect cameras who don't ever take photographs, we have members who collect and study images but don't own a camera, we have members who specialise in Victorian cameras and will not look at anything made after 1900, and still others who consider anything made before 1990 to be uninteresting – and the vast majority fit somewhere in between all of this!
Our publications (Photographica World and Tailboard) feature articles written by both experts and absolute newcomers to the club and the wonderful world of photographica. Knowledge is a great thing to share, but enthusiasm is also a key aspect – and we welcome research and discussion from everyone. We are as likely to discuss the merits of a DIANA camera as we are the history of the Leica. Stereo/3D photography is another perennial favourite – both from an historical angle and also how to get the best results.
From just £44 per year, membership of the PCCGB includes 3 issues of Photographica World, 6 issues of Tailboard, free entry to the countries biggest and most prestigious annual camera fair (Photographica, held in London In May) and of course the opportunity to attend any of the regional club meetings held throughout the year.
We look forward to welcoming you to the PCCGB!