Cars are very much part of our lives whether it is just a simple mode of transport, our cherished classic or a vital element of spending time with friends and family.
This means that there are many wonderful photo opportunities from catching a speeding sports car to capturing a cherished wagon with its loving owner or just making a recording of the wonderful design, colour and shape of a car.
Making Money from Car Photography
Most people have a favourite car whether it be the one that they now drive, used to own or want to drive in the future. This creates a demand for a photographer to capture the essence of cars and driving whether it be a car for sale on a garage forecourt, an abstract feeling about car ownership and exploring the open road or the dramatic & timeless lines of a 1960s sports car.
Here are a few thoughts about where to sell your car photographs:
Microstock – such as Shutterstock, Dreamstime, Pond5, etc. – but you will need to sell the images as Editorial so as not to infringe copyright. I may be looking for images for my website What Classic Car for example if I can not take the pictures that I need.
Prints – there are plenty of ways to create and sell good quality prints through sites such as Etsy and even Amazon utilising the services of companies such as ThePrintSpace. Some websites allow you to sell great images as downloads or prints such as PicFair.
Events – car events and rallies are a great place to take pictures of modern and classic cars. In addition to selling these on Microstock sites and as prints you may be able to sell selected images to the car owners or event organisers.
Car Sales – everyone has some sort of camera these days and therefore the value of excellent images to sell cars is sometimes missed. However, you may have visited a car sales website and been put off by the poor quality (or missing) pictures of cars. Try approaching garages and offering your services – you could offer them free of charge at first to create a portfolio and show other prospective buyers what you can create.
Promotional Videos – whether for a single model of car or a car sales organisations, car videos are very popular on YouTube.
What to take – Still Life from Classics to New Cars
When taking pictures of cars it is often easy to just think about the wonderful looking car and forget all the normal rules of photography that help you create stunning images that people will love. Here are a few thoughts:
Light – cars are very reflective and it's easy to have blown out areas that are difficult to manage even in post processing. You could use a polarizing filter, move the car into the shade if possible or take the car from a different angle. You may also need to use the exposure compensation feature on your camera. You may also look at using bracketing or a flash to help recover those areas that may normally be under or overexposed in a single image.
Composition – just because it is a wonderful looking car doesn't mean that you should forget about composition. For example, try and employ the thirds rule whether you are capturing the whole car or a single detail. We have some info on composition in our 'Capture Better Landscape Pictures' post.
Background – look at the whole image that you are trying to take and if possible move the car to give it a better background that works in terms of colour and texture. If you don't want people in your picture you may just want to wait till the area is clear of distractions.
Angle – take lots of photos and change the angle and height that you take the car at. The tilty-flippy screen on my Olympus Pen-F really helps as you can hold the camera up high (to perhaps capture the inside of an open top sports car, or down low to help add drama by incorporating a closer view of the wheels, bumper and exhaust.
Reflections – if you have spent some time composing your shots you may have already noticed the reflections. Take a close look at everything in your shot and unless you wish to, make sure that you are not captured taking the picture in the car's reflection.
What to Take – a Speeding Car
When I first started taking pictures with a film camera where you could change the aperture and shutter speed, capturing a speeding car was a great way to experiment and easily see the results… If I remember correctly we would practise three types of shot
Using a faster shutter speed and corresponding wide aperture. The result would be to freeze the car's motion and maybe also see the background slightly out of focus.
As an enhancement, we learnt to pan the camera with the car and ensure that it was crisp whilst the background blurred. A slower shutter speed was required.
A slightly longer exposure with the camera held steady so that the background was free from blur and a streak of a car across the screen – the streakiness controlled once again by shutter speed. The camera would need to be held steady by leaning against a lamp post or similar – or of course by using a tripod.
It is still very worthwhile practising these three techniques and with today's digital cameras you can practise all day with no real costs (unlike with film). You can, of course, use the technique with other subjects such as humans walking/running, animals & birds, bike riders and boats to name but a few. Just search for something like 'speeding car' on some microstock sites like Shutterstock, Dreamstime or Pond5 and see some examples. Some sites like 500px provide information on the camera, aperture, lens, shutter speed, ISO, etc. that will help you understand better the technique the photographer used.

One great tip for when you capture a moving car is to try and use a shutter speed that is fast enough to help you freeze the movement (panning helps) but slow enough to show the wheels still moving.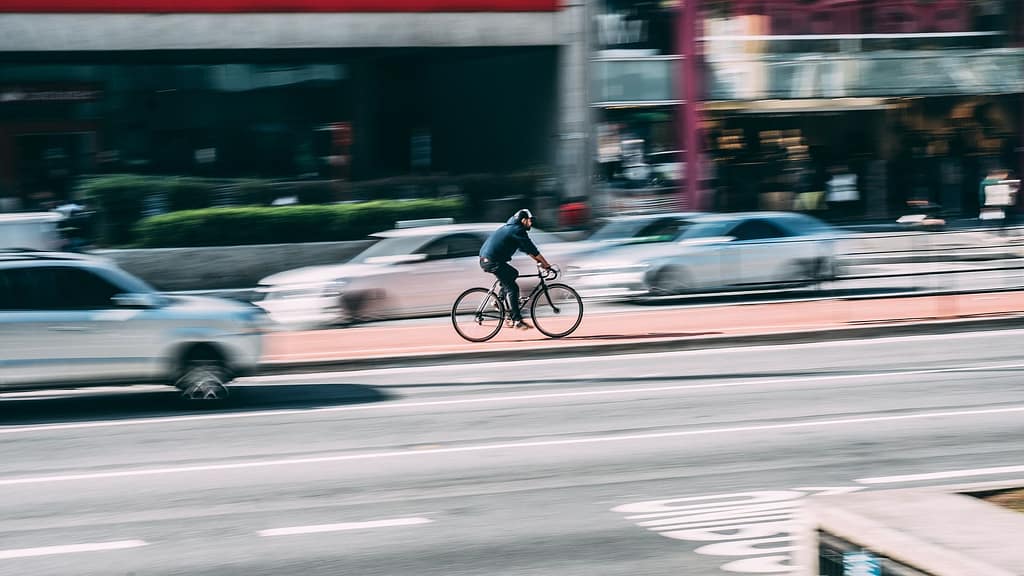 What to Take – People, Cars and Streets
Street Photography and Photo Walks are techniques and genres all of their own and many photographers use cars in their work so it would be worthwhile thinking about how you work in these environments as well as how you wish to capture the cars.
The car can be more than just a prop and the person more than just a model. The combination of the two can tell a wonderful story…. What's more, it does not need to be the most beautiful, modern or expensive car in the street.
Thank you
Many thanks for reading my post and please feel free to add some comments. Many thanks also to Pexels and Pixabay for the images.
Post source:
Check out the Bargains on eBay