I have enjoyed creating a zine and publishing a limited printed edition of the document. It is now available on my Etsy Store.
INTO THE FOREST is a zine showcasing photographs captured with my 1964 Pen EE film camera. (You can read more about the Olympus camera that I bought in the blog post – My New Olympus Pen EE, 1964 – What's in the Box?) The zine captures a walk through my local forest – Swinley Forest in Bracknell with our young silver Standard Poodle – Lottie.
What is a zine?
Well as far as I can see a zine is a short run publication and is derived from the word magazine. Wikipedia describes it well in my opinion as follows:
A zine (/ziːn/ ZEEN; short for magazine or fanzine) is a small-circulation self-published work of original or appropriated texts and images, usually reproduced via photocopier. Zines are the product of either a single person or of a very small group and are popularly photocopied into physical prints for circulation. A fanzine (blend of fan and magazine) is a non-professional and non-official publication produced by enthusiasts of a particular cultural phenomenon (such as a literary or musical genre) for the pleasure of others who share their interest. The term was coined in an October 1940 science fiction fanzine by Russ Chauvenet and popularized within science fiction fandom, entering the Oxford English Dictionary in 1949.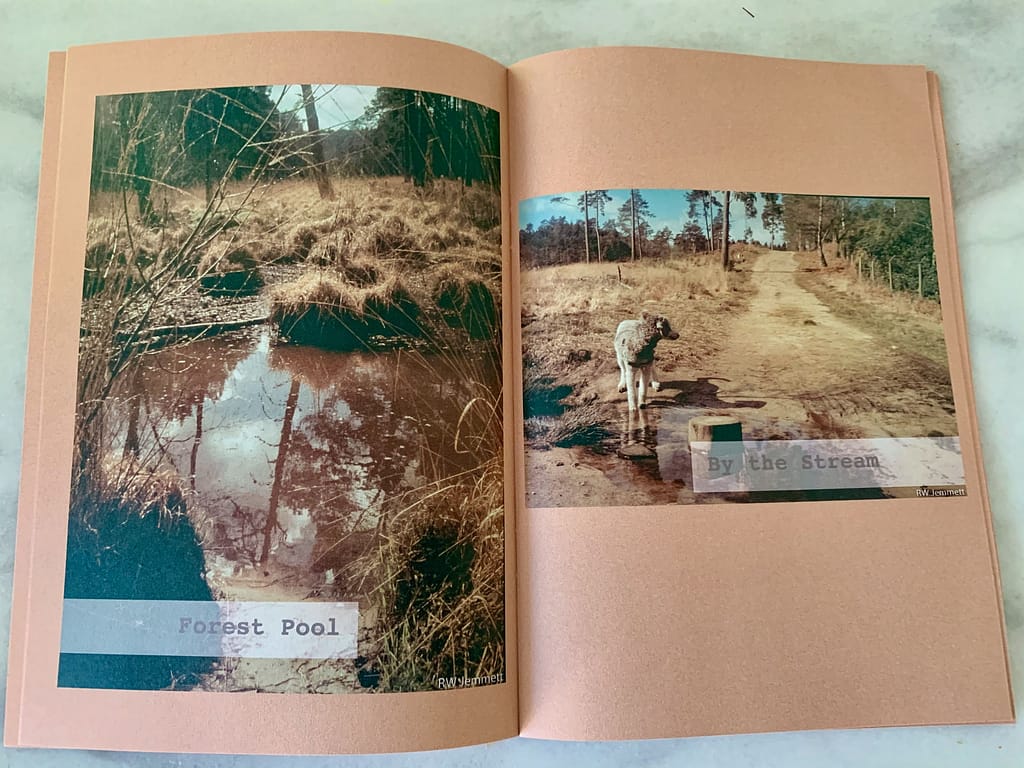 Making the zine
After some research including purchasing some zines by other authors, I decided that I needed some publishing software. Nothing too expensive but powerful enough to easily create the document and print. I looked at Microsoft Word and Adobe products (I use Adobe Lightroom and Spark for example). Word is not really publishing software and although I have used it to write ebooks. Adobe products are very expensive and overkill for the features I needed. So after reading lots of reviews I made what I believe has been a good choice and bought Affinity Publisher. After watching a few YouTube videos and support documents to find out how it works I was ready to go.
I imported photos that had been edited with Adobe Lightroom, wrote the text and played around with fonts (I wanted a 1960s font format). Layout was simple with Affinity Publisher and I was able to focus on how I wanted the zine to look, rather than worrying too much about the technical possibilities of the software. I also looked at the other programs in the Affinity suite but decided against them at this stage.
I wanted a limited edition zine and after looking at what others were producing and the economics of printing more copies, I went for 35. Each copy has a handwritten number on the inside cover and I can also add a small message if required.
Input materials
I bought the 35mm colour film for the Pen EE from ebay – Fuji Fujifilm C200 135-36 35mm 36exp film. It was at a competitive price and I could not find anything similar on Amazon. More recently I have been buying film from Analogue Wonderland.
The film I shot through the Pen EE was processed and scanned by a seller on Etsy. Whilst I got the results at a good price I was not 100% pleased with how the images turned out. Some images had some dust (not on all images) and I had to spend a little time using Lightroom to remove some of the unwanted blemishes. This may have come from the camera but it looked very clean to me when I inserted the film. You can read more about the results I got from the Pen EE – Results and Feelings about this Film Camera
The images of the Pen EE camera within the zine were taken with my Olympus TG-6. It's a great camera for taking closeups and is easy to use. You can read more about the TG-6 at Olympus TG Comparison of Models
When I bought the Pen EE I also acquired the manual which I used as a reference for the zine. The manual is available from my Etsy Store as a digital download.
Printing the zine
As you will have read earlier zines are often printed on a photocopier. I chose to get my zine printed by a professional printer and I looked at several (I have created a list in the Photography Directory) all of which appeared to offer a great service and a great price. After getting some example papers I went with Mixam so that I could decide what paper thickness (GSM) I should use for the cover and internal pages. I went for recycled paper in the end that did limit the range – but I was pleased with how the zine turned out
The zine was exported from Affinity Publisher and chose printer marks and bleed as requested on the Mixam website. I exchanged messages with Mixam to make sure everything was correct (I had the bleed set wrong on the first upload). Their upload, message and payment system was all good.
Printing was quick and I was kept up to date on progress including delivery. I was also not disappointed with the results when the box of 35 zines arrived.
Conclusion
I am not going to measure success on whether I make any money out of selling the zine on this occasion – but on whether I am pleased with the product and whether I enjoyed the process. On both of these criteria, it was a great success and I have started to look at my next zine – on a similar theme. It will be about my experience with the Minolta 110 zoom Mk II.
Here is a link to my zine on Etsy.
More
Post source:
Check out the Bargains on eBay