For a Brownie, the Starmatic is a remarkably sophisticated camera, though at the high cost of $34.50 (compared to $6 for a starlet!). Introduced in 1959 (two years after the original star series cameras on which it's based), it features a double exposure lock, and automatic exposure, in a format similar to the Bell and Howell Electric Eye – though with a much lower build quality. However whereas the Electric Eye controls exposure by automatically varying the aperture, the Starmatic uses a more complex shutter speed control.
The Selenium cell on this particular camera is dead, and hence the auto exposure no longer works. Fortunately the exposure value can be manually set.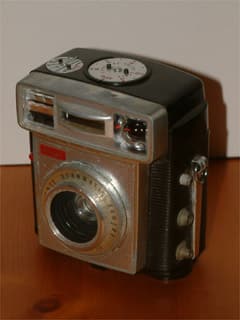 The Starmatic was upgraded in 1961 to the Starmatic II which in turn was discontinued in 1963.
Features
Type: Automatic Solid Body Eyelevel Rollfilm
Introduced: April 1959
Discontinued: Aug 1963
Film Size: 127
Picture Size: 1 5/8 X 1 5/8″
Manufactured: US
Lens: Kodar F/8
Shutter: Rotary
Post References and Attribution
This post was created with information kindly contributed by onetwoseven.org.uk
Post Links
Used and new camera providers – RW Jemmett Photography Business Directory Film Processing and Supplies
Find a Kodak Brownie Starmatic on Etsy
Photography Books
Post source:
Check out the Bargains on eBay