Overview
The Yashica AW mini is a fully automatic and weatherproof 35mm film camera. It was first released in 1990 before the digital market was a market at all. It has a moderate wide-angle lens in a standard body. 
Features and Operation
Its main features are:
32mm F3.5 lens, 4 elements in 3 groups, autofocus with focus lock, min. focus 0,95m
Electronic shutter, 1/120-1/600s
Size 126.5×64.5×39.5, Weight 225 gr. without batteries
100-1000 ISO, automatic DX coding, automatic film advance, self-timer, forced flash mode, waist-level finder (inversed image)
The camera has 4 flash modes: auto-flash (default), auto-s (red eye reduction), off, fill-in flash. If you slide the cover open, remember that it's default auto flash every time and it's 2 pushes for off. Flash guide number ~12 (m/ISO 100)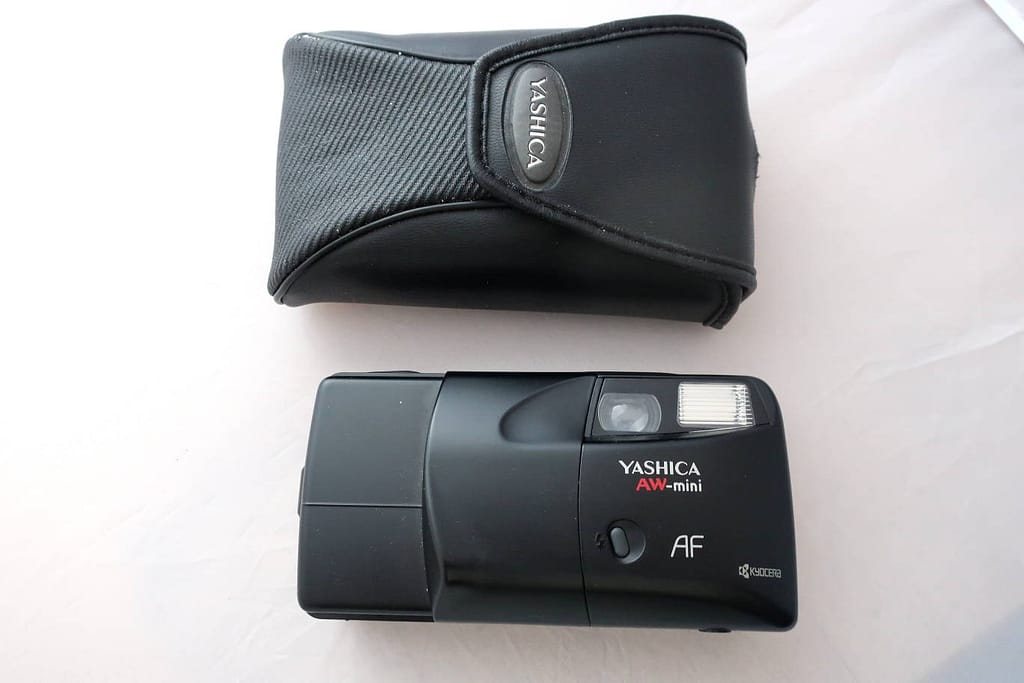 This camera is easy to use. Autofocus is fine and responsive. Putting a film is easy as well, you drop the film, tear the film leader up to the mark and that's it. The camera winds it automatically. It has only automatic flash mode and a forced flash mode for backlight situations, no flash off. The red flash lamp is on while charging and blinks when charged, normally it's the opposite. Green focus confirm light. There is a waist-level finder, very handy for street photography. It's water-resistant even in heavy rain. As there are only short speeds, no night photos are possible.
The pictures are fine, although the lens is not a Tessar, it's a Tessar-type lens with very good picture quality. It's a mid-range point and shoot camera with a moderate wide-angle lens in a pocketable body. It sets the flash on from start.
A very nice camera, but Yashica made the T models which are better, yet expensive beyond reason. So this is a usable alternative to the T3, it has even the same luminous waist level finder, which is a nice feature for street photography.
Wiki
The Yashica AW-mini (or Kyocera Season in Japan) is a compact autocus camera, made by Kyocera. While most of its specifications are fairly typical for its age (released in 1990), it distinguishes itself by being weather-proof (AW meaning "All Weather") and for its waist-level finder, a trait it shares with several Yashica cameras.
Specifications
Lens: 32 mm f/3,5, 4 elements, 3 groups.
Shutter: 1/120–1/600 s. Self-timer built-in.
Viewfinder: Albada bright frame finder.
Flash: Built-in.
Film speed: 100–1000 (with DX coded film)
Dimensions and weight: 126,5x64,5x49,5 mm, 230 g.
Power: AA batteries.
Links
Check out this camera on Instagram #yashicaawmini
Post References and Attribution
This post was created with information kindly contributed by 135Compact
Post Links
Used and new camera providers – RW Jemmett Photography Business Directory Film Processing and Supplies
Cameras and more from my Etsy Shop
Post source:
Check out the Bargains on eBay