By far the most famous 127 camera's are the baby Rolleiflex's. The original baby Rolleiflex was introduced in 1931 and discontinued in 39, following the launch of the Rolleiflex "sport" (1938-41). The Sport features a 2.8 lens – allowing it to capture fast-moving action more easily. However, the easiest way to tell these apart is that the Sport saw the introduction of the bay 1 filter mount.
Baby Rollei's were reintroduced "post-war" in the form of the baby grey (1957-63) and the much rarer baby black (1963-68). While 62,250 greys were made only 4930 blacks were manufactured, making them highly collectable. Again these can be distinguished from earlier models by their filter mounts – the post-war models have mounts on both taking and viewing lenses, while the Sport only has the mount on its taking lens.
Even more rare than the black baby Rollei's is the stereo Baby Rolleidoscop – one of the companies first products. These can sell for thousands of dollars, being sought after by Rollei collectors and Stereo collectors (and users) in addition to us less affluent 127 fans.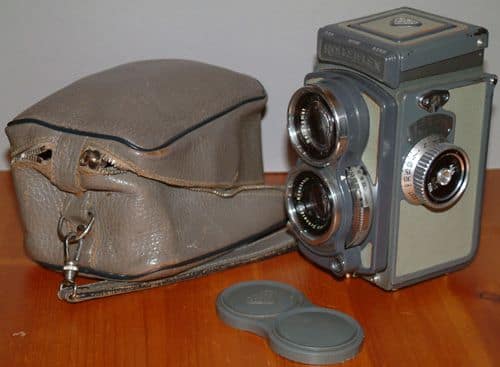 My Rollei is the most common baby grey, though it has the slightly less common soft case, rather than the usual clamshell. These are relatively easy to find, and prices range from 80pounds for a well-used model up to 300 for a mint, complete outfit in its original packaging. Mine's nearer the user end of the spectrum, but works well (following a minor repair to the rather complex winder mechanism). In use, these are incredibly comfortable camera's and with a few minutes of use I felt very at home with it – the only questionable design feature of the baby grey is the LV shutter, which locks together aperture and shutter. This makes it easy to trade off the two, keeping constant exposure but makes it more fiddly to increase the exposure quickly in response to changing situations – pros and cons, but I'm not totally convinced.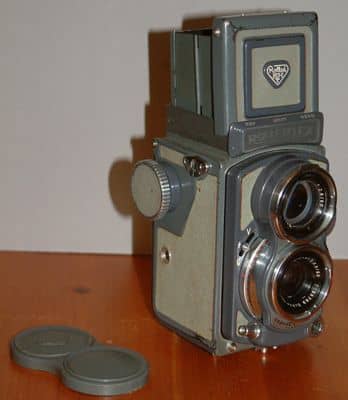 You can find detailed info on all Rollei's cameras on the club rollei site. For those who've REALLY got the Rollei bug, you can now get a Digital Rolleiflex. Unfortunately, it's more of a fashion accessory that a serious camera (2Mega-Pixel, fully automatic), but it does have a waist-level finder, and takes square pictures (1280×1280) – you even have to wind the handle between shots! Now if they could make it Baby Rollei size, decent resolution, and fully manual operation then I'd just have to have one!
Post References and Attribution
This post was created with information kindly contributed by onetwoseven.org.uk
Post Links
Used and new camera providers – RW Jemmett Photography Business Directory Film Processing and Supplies
Check out the Bargains on eBay