I have owned quite a few cameras over the years and all have had their pros and cons of course. My latest camera the Olympus TG-6 seems to have more Pros for the pound than most.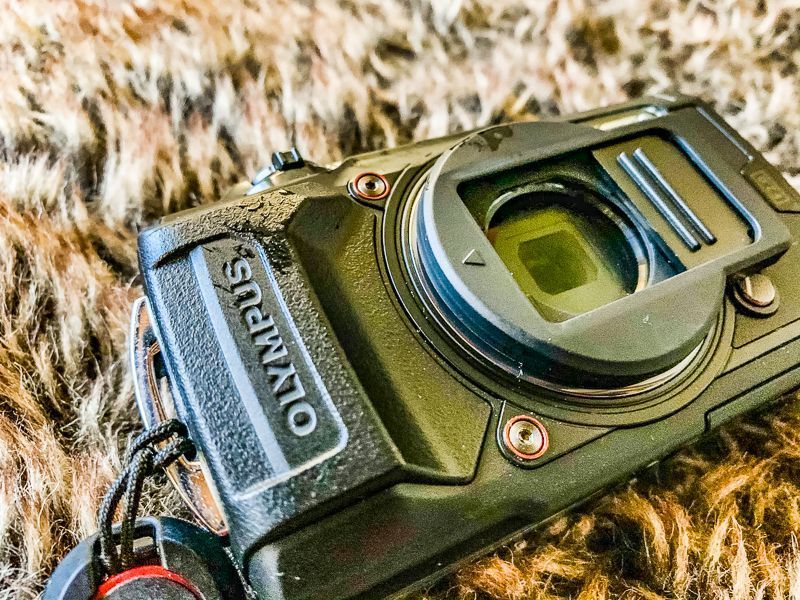 A Go-anywhere Camera
It is often said that the best camera is the one that you have with you. These days most people have a phone camera with them and each year they get a little better. I have created a blog post that discusses the merits of phone cameras along with other types of camera – Four Types of Camera, Which One Works Best for You? The TG-6 is dustproof, waterproof to 15 m, shockproof to 2. 1m, crushproof to 100 kg and freezeproof to – 10 degree Celsius. So different to previous cameras I have owned including my Nikon DSLRA digital single-lens reflex camera (digital SLR or DSLR) is a digital camera that combines the optics and the mechanisms of a single-lens reflex (SLR) camera with a digital imaging sensor. The reflex design scheme is the primary difference between a DSLR and other digital cameras. In the reflex design, light travels through the lens and then to a mirror that alternates to send the image to either the viewfinder or the image sensor. The viewfinder of a DSLR presents an image that will not differ substantially from what is captured by the camera's sensor but presents it as a direct optical view through the lens, rather than being captured by the camera's image sensor and displayed by a digital screen. DSLR is often (wrongly) used to describe cameras that are Micro Four Thirds or Bridge Camera  - just because they look similar. This can bee seen when cameras are offered for sale.  More and my current wonderful Olympus Pen-F.
The Olympus TG-6 also has GPS location logging built-in. Similar to a phone camera you can add GPS location data to your images, great for those that want to know exactly where the image was taken such as this using the camera when hiking and travelling. The location can, for example, be seen on the Adobe Lightroom map page.
A Full Range of Features
So why do I love the TG-6 so much? Well, there are three clear reasons.
First, you can truly take it anywhere. The small robust and waterproof body so you can take it out in all weathers. Perfect for city strolls, visits to the coast, out with friends and family or even swimming…. Just pop it into a pocket or bag every time you leave the house.
Second, it can capture some great photos. With a high-quality zoom lens and the ability to create RAW images, your photographs should mee your requirements. Indeed I have successfully submitted photographs taken with the TG-6 to microstock sites including Shutterstock, Bigstock and Dreamstime. The camera is relatively simple to use but you can switch to Aperture PriorityIn this mode, the user can adjust the aperture and the camera automatically selects the best shutter speed to match it. In most cameras, the Aperture Priority mode is usually denoted by the letter 'A'. Most film SLRs were made as Aperture Priority - e.g. Nikon and Olympus. More, use Focus Stacking, HDR and panorama settings. I hope to produce posts about how best to use all of these features in the future.
Last, but not least. The camera has a fantastic Macro mode without the need to change lenses. You can even attach a purpose-made OlympusOlympus introduced its first camera in 1936, the Semi-Olympus I, fitted with the first Zuiko-branded lens. The first innovative camera series from Olympus was the Pen, launched in 1959. The half-frame format, allowing 72 pictures of 18 × 24 mm format on a standard 36-exposure roll of film, made Pen cameras compact and portable for their time. Pixel More LG-1 LED Light Guide to improve things even further.
Accessories
To complete and help me look after my new Olympus TG-6 I have purchased three accessories. This first is a small soft case – although it is very tough I still want to make sure I do not scratch or damage the camera whilst not in use. Second, on the same theme, I have bought a lens cap for the TG-6. This is a specially made unit (there are other types available) that was relatively cheap and seems to work well.
Last I bought the Olympus LG-1 LED Light Guide for macro photography. So far so good and I am very pleased with the results.
I have not bought a spare battery or a dedicated charger yet. They are available but I just plug it in via a USB in a similar way to how I use and charge a phone. You can read more about the TG series on our blog post that compares the different models.
A few of my first images – edited with Lightroom, etc.
Links
RW Jemmett Photography Directory
Olympus TG Comparison of Models – Are Older Versions Still a Good Buy?
Instagram #olympustg6
[insta-gallery id="4″]
Find the camera you are looking for on eBay
Find Books by Richard W Jemmett the author of this website on Amazon