Category:
Pentax
Pentax is a brand name used primarily by Japanese multinational imaging and electronics company Ricoh for 35mm cameras, sport optics, and CCTV optics. Not to be confused with Pentax 6×7 (1969 to 1990) and Pentax 67 (1990 to 1999) which were primarily used for the medium format 120 6x7cm cameras. The Pentax brand is also used by Hoya Corporation for medical products & services, TI Asahi for surveying instruments, and Seiko Optical Products for certain optical lenses.
The company was founded as Asahi Kogaku Goshi Kaisha in November 1919 by Kumao Kajiwara in Tokyo. In the lead-up to World War II, Asahi Optical devoted much of its time to fulfilling military contracts for optical instruments. At the end of the war, Asahi Optical was disbanded by the occupying powers, being allowed to re-form in 1948.
In December 2006, Pentax started the process of merging with Hoya Corporation to form 'Hoya Pentax HD Corporation'.On July 29, 2011, Hoya transferred its Pentax imaging systems business to a newly established subsidiary called Pentax Imaging Corporation. On October 1, 2011, Ricoh acquired all shares of Pentax Imaging Corp. and renamed the new subsidiary Pentax Ricoh Imaging Company, Ltd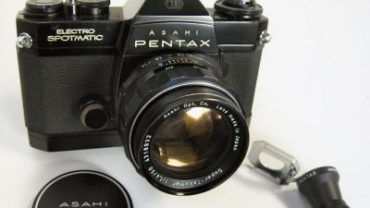 Overview The Pentax Electro Spotmatic was the world's first 35mm SLR with […]
The Pentax Auto 110 was the world's first and only subminiature 'SLR system'. A classic design which is a sought after collectors' item.
Overview The Pentax Espio 738 is a 35mm film camera of the […]